Wake-up lighting
Every day has the potential to be great — and it all starts with waking up.
Signe gradient floor and table lamp
Wake up to the morning sun, scheduled to rise at your convenience. Featuring a wood-toned base, slender design, and brilliant blend of colorful light, this floor lamp is both a statement piece and a subtle accent for your bedroom.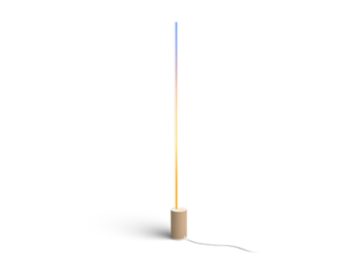 Blends multiple colors of light

Special bedroom edition in oak

Control with app, voice, or accessory

Unlock the full suite of smart lighting features with Hue Bridge
Get the best wake-up light
Let the morning sun wake you in your bedroom no matter what time of year or season it is. It's a personal wake-up call designed by our lighting experts, and then customized by you.
Personalize your dawn
Customize your wake-up lighting in the Hue app. Choose when your sunrise begins, as well as its duration, brightness, and even the type of sunrise it is.
Stay relaxed, stay refreshed
A tranquil wake up is just the start. After your sunrise, customize your Wake up automation to extend through your morning routine to keep that peaceful feeling all throughout your day.
Simulate the sunrise
No matter what time you need to wake up, you can schedule the sun to rise at your convenience.
Your light, from morning to night
See how Philips Hue smart lighting can help you at every moment of your day.
*When a bulb displays "Up to" a certain number of lumens in its specifications, it displays the maximum lumen output of the bulb. It shows how bright the bulb can get at 2700 K (White bulbs) or 4000 K (White ambiance or White and color ambiance bulbs). Learn more about brightness.