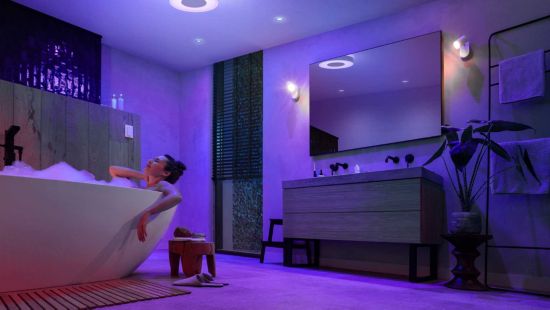 Create a personalised experience with colourful smart light
Use millions of colours of light to transform your bathroom, instantly creating a unique atmosphere. With the touch of a button, you can cast your soak in the tub surrounded in a calming pink glow, or light your bathroom in vibrant purple to make getting ready for a night out with friends even more fun.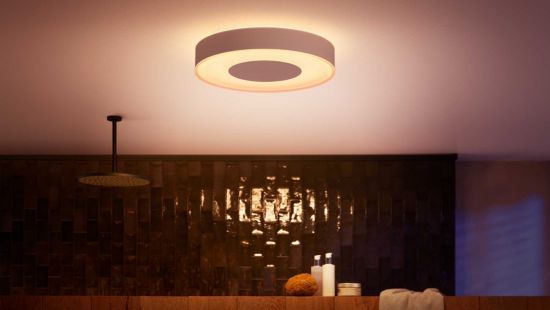 Water-resistant smart light for bathrooms (IP44)
Philips Hue smart bathroom lights have been rigorously tested to make sure that they are water resistant, making them ideal for lighting humid environments. Each bathroom light meets IP44 standards.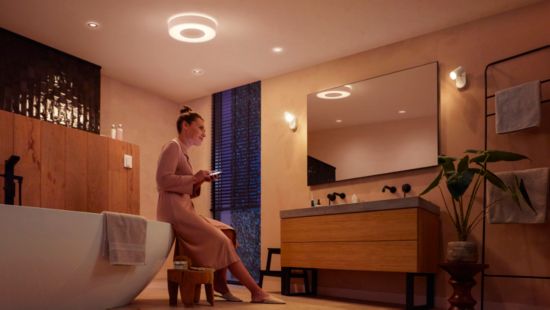 Optimised light recipes for your daily activities
Use the preset Philips Hue light recipes to fit your mood or activities throughout the day. Start your day with the bright white light of the Energise light recipe, or unwind with the subtle, soft light of Relax. Reading a book in the bath? Set the Read recipe for just the right light.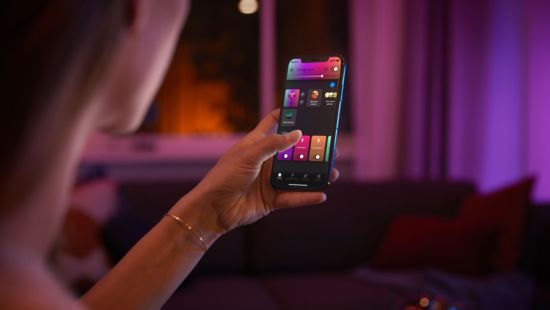 Control up to 10 lights with the Bluetooth app
With the Hue Bluetooth app, you can control your Hue smart lights in a single room of your home. Add up to 10 smart lights and control them all with just the touch of a button on your mobile device.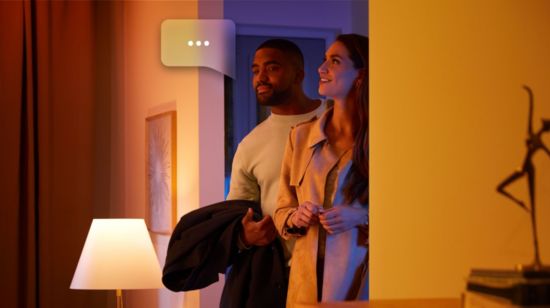 Set up hands-free voice control
Philips Hue works with Amazon Alexa and Google Assistant when paired with a compatible Google Nest or Amazon Echo device. Control multiple lights in a room or just a single lamp with simple voice commands.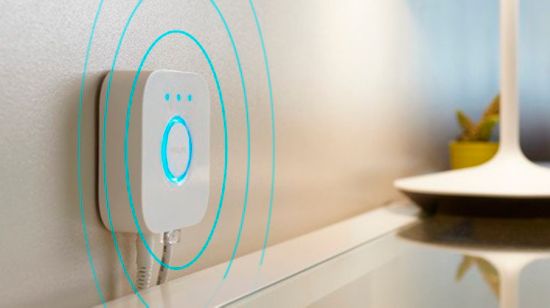 Unlock full suite of smart light features with Hue Bridge
Add a Hue Bridge (sold separately) to your smart lights to experience the full suite of Philips Hue features. With a Hue Bridge, you can add up to 50 smart lights to control throughout your home. Create routines to automate your entire smart home lighting set-up. Control your lights while away from home or add accessories such as motion sensors and smart switches.
Yes (with Google Assistant and Amazon Alexa)
Installation-free dimming
Works with Hue Dimmer Switch
Warm-to-cool light for better ambience
Light recipes for daily tasks
Wake-up and Go-to-sleep routines
Automate lights with schedules
Configure Hue smart accessories
Sync lights with music and films
Level up your gaming with synced lights